ABOUT GREG LLOYD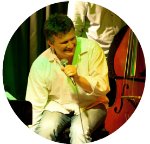 Professional Pianist, Composer and Educator

Have you struggled to learn blues and jazz piano? Do you want to play blues and jazz but don't know where to start? I'm here to help you.
Have you been told that you can't learn blues and jazz, that you either have it in your bones or you don't? You CAN learn blues and jazz piano. I know because I did it! There is a proven method I teach that will get you playing blues and jazz like a pro!
I am a full-time professional musician, composer and educator with more than 25 years experience. I have successfully taught blues and jazz piano to many thousands of people, from beginners to advanced students - and I can help you too!

More About Greg

Greg Lloyd is an Australian professional Jazz Pianist, Composer and Educator with a B.Mus. in Jazz Performance from the Sydney Conservatorium and Australian National University. For 25 years Greg has been helping aspiring musicians learn blues and jazz.
Greg has taught at numerous universities worldwide and has performed at the Berlin Jazz Festival, the Barbican and in major venues in New York, Dublin, Sydney, London and Paris. Greg has studied with Joe Zawinul, Lee Konitz, John Patitucci, Mike Stern, Mark Murphy, Niels-Henning Orsted Pedersen and Mike Nock and on the Rock side of things he has collaborated with Damon Albarn (Blur/Gorillaz).
Greg is known for his engaging and supportive style of teaching, his humour and his ability to teach complex harmony and musical theory 'by stealth'. His unique method has helped thousands of students to master jazz and blues piano with many going on to have successful careers as professional jazz musicians.